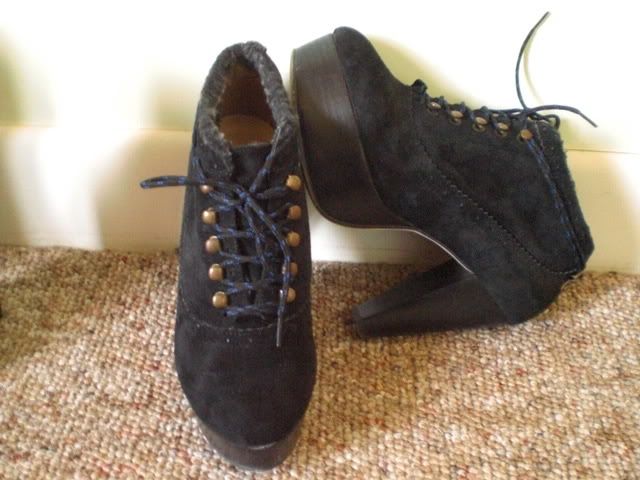 What I've spent on shoes the past two months is a little bit ridiculous. I don't know what came over me but all of a sudden I had the desire to own every shoe known to man. Its kind of scary thinking about a possible addiction arising, but as with all addicts deny, deny, deny!!!! So I will. plus I've vowed to not purchase any more shoes till....March. HeHeHe.Okay so moving on... I was browsing Nine West when I found the Cuzzah boots seen all over Jenny Humphrey's little guerilla fashion show two months ago. They were ridiculously on sale so I had to purchase them but not after a bit of mulling it over. I started thinking about how they would look great with an all black outfit for a true New York look and possibly with my red plaid tights or cheetah print leggings. I had to buy them, so I did and they are seriously the most comfortable heels I own, and I can really vouch that, because although I would die to be one of those girls that can walk around in heels all day without a problem, I'm not. These are really my answer to that dilemma. I can walk from Herald Sq. to Canal Street without a problem(okay maybe some slight pain, but dude, thats like a mile and a half).
I also finally got the Charlotte Ronson Beatrice boots. I got them in Black as you can tell although seeing Tennessee Thomas in the brown ones makes me think I might have made the wrong decision.They look so adorable on her but then again she can make saddle shoes ultra cool so I can't really take her as an example.
I have really come to find a huge crush for Charlotte Ronson. I adore her campaign videos, her girly frocks, her super adorable step sister Annabelle Dexter-Jones and ever since getting the shoes, her shoe collection.
Which leads me to another post entirely on Fashion Week. But thats a horse of a different color, if you know what I mean.
Photo: contactmusic