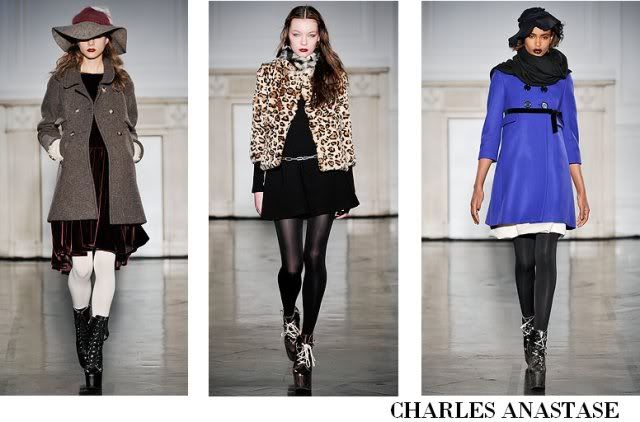 First off I have to say Charles Anastase's collection was INSANE!!! not in bad way but not in a good way either.These three looks (and a few others)were probably the most demure and wearable out of the whole collection. The collection as a whole seemed like it was straight out of some horror punk movie, with the addition of dirty faces, torn and dirty tights and shoes.Although freakish, it still maintained the aesthetic that an Anastase girl looks for. Edgy and girly combined to one look.
What can you say about Parisian Chic. Women love it and girls want to have it.I think any girl can vouch when I say that to have a parisian elegance is to achieve fashion bliss. This collection in a nutshell is that very essence. With all the crazy embellishments and gaudiness we see everywhere else, to see this collection is like a sigh of relief.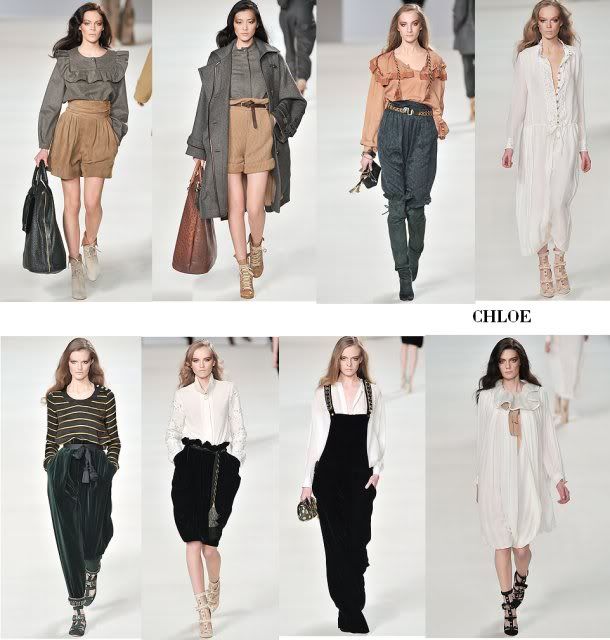 After 2 seasons in with Hannah MacGibbon, I can finally say "Welcome Back Chloe".This collection proves that after a few puzzling collections since the absence of Pheobe Philo, we can rest assured her protege can and will maintain Chloe's pedigree.
A few things I have to point out:
1.THE MAKE UP!!!!-oh my gosh, that make up is amazing. You can really see that the Chloe girl is moving on and progressing into a woman whose matured and sophisticated just by the make-up alone.Which is what I think Hannah had intended. Shes not trying to be Pheobe Philo, but trying to continue the path.
2.BLACK VELVET OVERALLS!!!!-who wouldn't want those?
3.THE SHOES!!!-what is a chloe collection without stand out shoes?