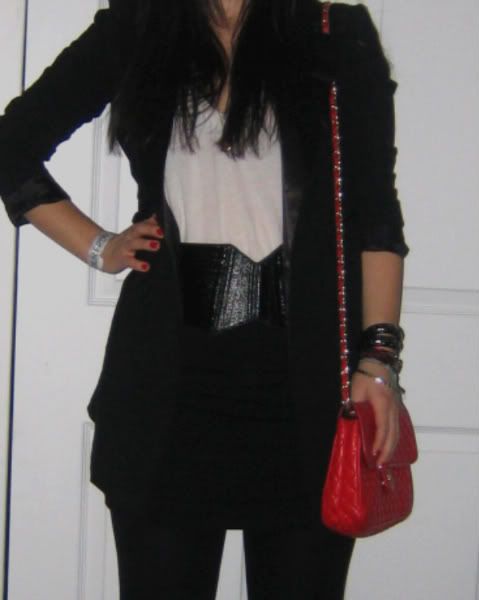 For a monochromatic look with a bit of pop I paired this Black Tuxedo Blazer with a loose lived-in T, Patent Black Corset Belt,Black Bondage Skirt, Black opaques, Vintage Black Platform Oxfords and a red chain link bag
When I first saw this Blazer I kept passing it by. I Didn't give it much of a chance. Then one day I succumbed to it's incessant calling and tried it on. From the Satin details on the lapel and pockets to the double breasted buttons to the slim fit sleeves I was sucked in.Once closed fully, the slim fit all around was the deal breaker. There was no looking back after that. However I might possibly be considering giving this baby a hem chop. What do you think? Should I stay with the elongated almost "Dress" Like length or shorten it about 2"?
Blazer: Black Tuxedo Blazer(F21)
T-shirt: White Lived in T(H&M)
Skirt: Black Bondage (H&M)
Shoes: Vintage Black Platform Oxfords(Ebay)
Bag: Vintage Red Chain Link Bag(Ebay)
P.S. I tried getting a better close up of the jacket and lapel but I don't think it did the jacket any justice. Hopefully in Version 2 there will be a better contrast to see the jacket.