On Wednesday night, my friends and I went to the Angelika to catch
The Wackness
. The movie is about this kid who lives in New York City and spends the summer dealing pot, making friends with his shrink and crushing on his shrink's step daughter. Josh Peck, Sir Ben Kingsley and Olivia Thrilby all were excellent. Encapsulating a period when New York's Hip Hop culture was on the rise. It's funny to me, because I lived through that period. It was a strange time in New York.The styling on the male part was pretty good, but aside from the Fly girls (check Jennifer Lopez in In Living Color), which was excellent, wasn't really reminscent of the time. It was 1994 for pete's sake.Anyways we all left that movie in a nostaligic mood.It was a really cute movie and I do advise anyone to go see it.
Side Note: Keep a lookout for a really really good Jamaican accent from Method Man
Don't keep a lookout for Mary-Kate Olsen's overacted 10 minutes.(sorry any mk fans,I'm a fan too but her acting was really not good).
After the movie we headed over to Home Sweet Home for some drinks and dancing. When we got there we were greeted with a thick cloud of smoke and lights everywhere. I felt like I walked into a time machine and it brought me back to a New Wave/Goth bar in the 80's. They played all these really obscure dark new wave songs(check
Bat for Lashes
)
I'm not such a fan but it was such a good time.We danced the whole time we were there.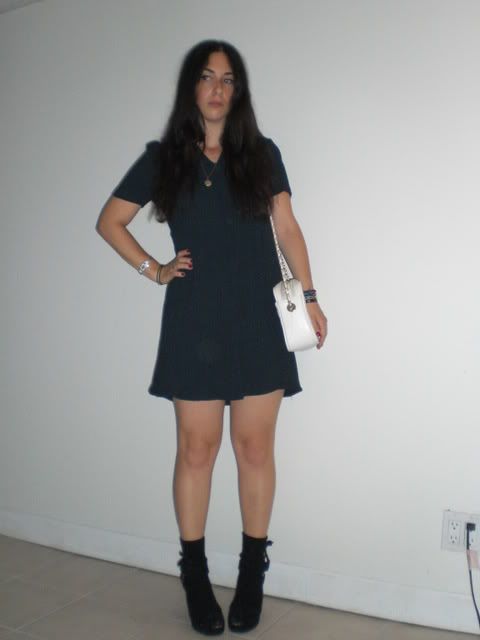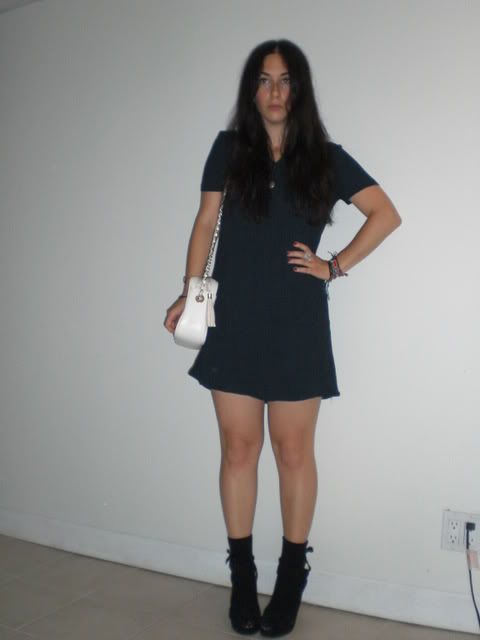 The Details: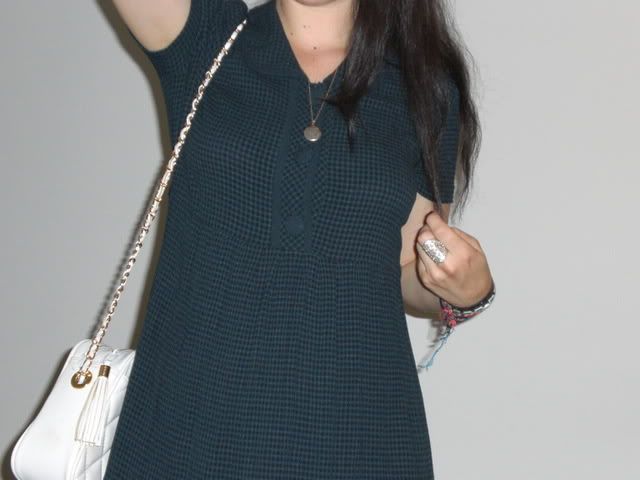 I purchased this dress about 2 weeks ago and I was planning on saving it for the Fall but the fabric was so lightweight that when I put it on it was just so divine. It was almost refreshing. Because when I was getting dressed I was so hot, and then I put it on it just felt like I wasn't even wearing anything.When I found this at the thrift store I fell in love with it. It was perfect for satisfying my grunge-y needs and also my obsession with Girl-y Doll dresses. It was also perfect because I didn't have to altar the bust at all. It fit perfectly. At the bottom it had two giant holes, but I purchased it knowing that I was gonna shorten and hem it anyways.
Dress: Vintage Black and Green Gingham Babydoll Dress(thrifted)
Socks: Ankle Socks with Bow trim(Forever21)
Shoes:Black Pin Up Wedge Sandals(Sugar, Boutique)
Bag: Vintage cream quilt bag(thrifted)
Ring: Silver Baroque inspired ring(forever21)