I just got a new bike for my birthday(which is on sunday next week). I've been on the hunt for a Roberto Pie inspired bike for a long time now but nothing that is semi-decent priced. I really wanted a bike with fenders on the wheels but the ones that I did finally find was the only one they had in the store and it had a flat and I didn't love the colors that much(red and white). Also a lot of bikes I did look into also with fenders didn't have handle brakes. They all had cruiser brakes which are on the pedal, kind of dangerous if you don't know how to use 'em. This bike had a handle brakes and a fender on the chain(it's on the other side) but the handle bars are amazing, they are so comfortable to ride with. You don't have to perch forward to reach for them. They let you ride in an upright position, its great!!! My friend(
the one with the city cruiser
) and I went last week to a $.99 store to find fake flowers so we could decorate our baskets. When I finally got my bike this past Friday I purchased a basket(which comes off of it's stand and you can take it with you wherever). I really wanted a wicker basket, but the one they had compared to the metal one, wasn't sturdy. I placed the flowers I purchased on my basket for a feminine, girly, hippie feel to the bike. It is still kind of bare, so I'm thinking to add a little bit more to it and maybe a cover for the inside, we'll see.
DIY

What you will need:
- Pliers(really tough one)
-fake white flowers
- fake butterflies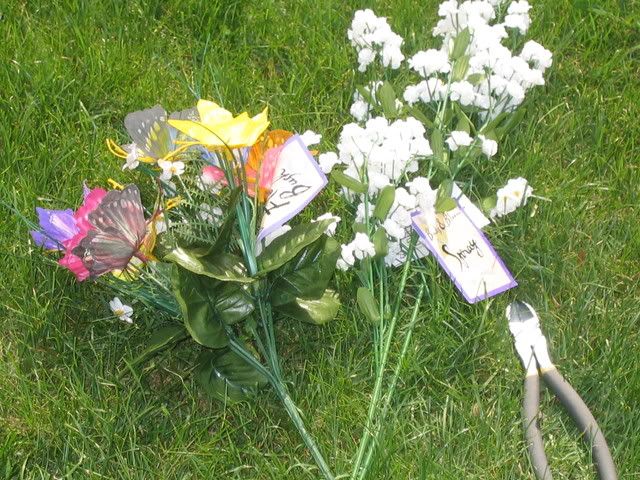 Step 1: Cut the stems off the flowers. Each individual stem can be used to wrap around the basket bar/wicker.
Step 2: Keep twining the wires around until you've reached the amount you feel is necessary.
Step 3: Cut the butterflies out of their branch and keep them on their individual stem, with flowers still attached. Twine the butterflies around the bar/wicker. Add as many as desired.