I thought it would be fun to showcase some of my favorite go to outfits from last summer to see the transition from different styles. These outfits were my go to outfits while I was interning at Alice & Trixie last year. They were super comfy and chic. Although the style hasn't changed that drastically, there are minor details that can change the whole look. Being that I wasn't a fashion blogger last year, I didn't get to show them. I thought I could maybe take a trip down memory lane for a post and see the difference between both spring/summer '07 and spring/ summer '08.
Shirt-White tank (H&M)
Skirt- Black Button Front Puff skirt, the skirt i think was meant to be worn on the hips but i bought a couple of sizes smaller and wore it around my waist. It was before i could find skirts that were meant to be worn that high.(Urban)
Tights- black (Target)
Shoes: Gladiator flat mary janes(F21)
Belt: Vintage brown (mom's closet)
Sunglasses-Black Wayfarers(St.Marks Place)
Shirt: Black ribbed tank(Urban)
Skirt: Lightweight denim striped puff skirt(F21)
Tights: Black (Target)
Shoes: Black gladiator flat mary janes(f21)
Belt: Black Skinny Woven leather Belt(H&M)
Sunglasses: Black Wayfarers(St. Mark's Pl.)
Shirt: Same as above
Skirt: White full skirt(F21)
Tights: same as above
Shoes: Platform Mary Janes (Chloe)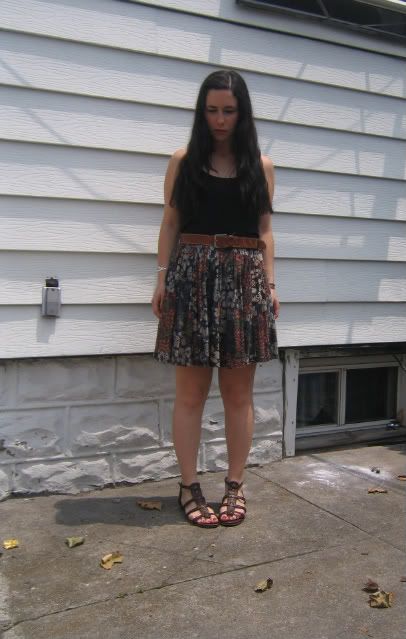 Shirt: Black spaghetti strap leotard (Value Depot)
Skirt: Vintage Brown floral print full skirt, cut and hemmed(thrifted)
Shoes: Brown gladiator studded sandals (ebay)
Belt: same as above
Dress: Vintage ruched elastic top floral print dress, cut and hemmed, first floral 90's inspired dress I bought(canal jeans company)
Shoes: Same as above
Sunglasses: Large Tortoise Wayfarers (spring st.)
Dress: Vintage Floral Sailor Collar Tea Dress, Cut and hemmed, second 90's inspired floral dress I bought. I love this dress soo much.I don't think I'll ever be able to part from it. It's seriously the best summer staple I have.(canal jeans company)
Shoes: Same as above
Sunglasses: Same as above
Dress: Vintage Sweetheart neck Romance Bandage dress, This dress reminded me of Kelly Kapowski....and thats all I'm gonna say!!! No, but seriously I know you can't see the neckline but its sooo cute and the perfect party dress.(thrifted)
Tights: Same as above
Shoes: Same as above
On a side note: I had these amazing, perfect vintage patent gladiator flats that I absolutely destroyed and I'm not sure they are repairable anymore. I'm really sad I couldn't wear them for this post, to share with you guys but I'll try to get them fixed.
Photos will come of said destroyed sandals.
Also the brown gladiator flats in these pics are also kind of destroyed but the damage is not that noticeable.
Oh wow I destroy way too many sandals. I just realized that I destroyed 3 pairs of sandals from last year.