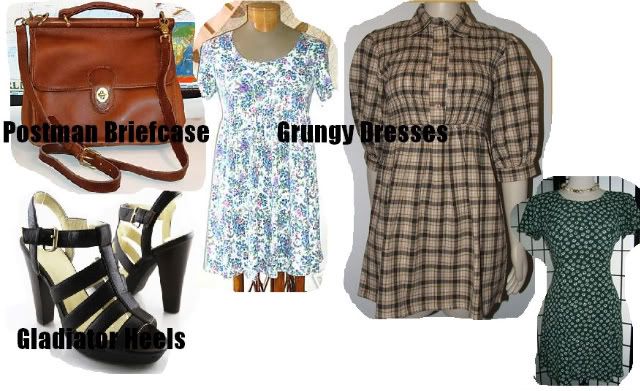 I haven't done an Ebay Finds post in a while, not only because I haven't bought much on there for a while, but just recently I've found some amazing stuff.
Gladiator Heels: First off I have to mention that the vendor that auctioned these shoes was probably the worst vendor I've ever had to deal with on ebay. I'd feel too bad mentioning the name of the store where I purchased these from but I feel compelled to warn others from having to deal with such unprofessional business. The name of the store is Ami Shoe Store. They posted these shoes, I bid and won them and then a couple of days later they send me an e-mail that they were back ordered. How can a shoe be posted on ebay if it's not in stock? Isn't that against ebay's policy?
Then the slue of e-mails back and forth requesting a different shoe size and color. It was horrendous. So as I'm about to cancel the order, what do you know, they're shipping my item. So I guess we'll have to see what kind of surprise is yet to arrive. Cross your fingers for me!!! I really hope they are these cute strappy numbers that I was so looking forward to.
Postman Briefcase: As I've been avidly reading many of the blogs that are on my blogroll, I have noticed many, many postman briefcases.Not only that but the girl, that I've mentioned previously with the navy schoolgirl pinafore, also had a postman breifcase. I was set to find one for myself.
Grungy Dresses: The green floral dress I actually recieved a while ago, I've never actually done an outfit post about it, but it will come soon. There are photos of me in it on
Nickydigital.com
.I wore it to a friends birthday at Hiro.
The plaid dress I know I won't be able to wear it for a little while but I couldn't pass up it's super cheap price tag, plus no one else was bidding on it.
The Babydoll floral dress was also super cheap and I had dreams of it paired with my navy blue schoolboy lace up boots and a denim jacket. I couldn't resist!!!
I actually just recieved it today(along with an additional floral dress I didn't order.Ooops!!! the seller probably accidentally shipped it with mine. I did e-mail her about it, we'll see what she says). An outfit post will come soon!!!
***Update: The seller that sent the additional dress, always sends a free gift with every new customer, so I just got a free dress.How sweet is that??
Also I received the shoes today. They came in the requested size and color.Although I preferred them in brown, it meant waiting for weeks upon weeks. They sent me a black and a half size smaller than originally purchased but it fits nonetheless. They are really cute and will post them soon.